Must be enrolled in FordPass Rewards to earn or redeem FordPass Rewards Points. Points are not redeemable for cash or check. See the FordPass Rewards Program terms and conditions at FordPassRewards.com for information regarding expiration, redemption, forfeiture and other limitations on FordPass Rewards Points. Offer valid 2/1/23 to 3/31/23. See Service Advisor for vehicle applications and offer details through 3/31/23. Motorcraft® is a registered trademark of Ford Motor Company.*

*Dealer-installed retail purchases only. Limit one offer per vehicle. $100 tire rebate or 25,000 FordPass Rewards Points on Michelin, Pirelli and Yokohama. $70 tire rebate or 23,000 FordPass Rewards Points on Goodyear, Dunlop, Bridgestone and Toyo. $60 tire rebate or 21,000 FordPass Rewards Points on BFGoodrich and Firestone. $50 tire rebate or 21,000 FordPass Rewards Points on Nitto. $40 tire rebate or 21,000 FordPass Rewards Points on Uniroyal. Medium/commercial Toyo tires are excluded. Must be enrolled in FordPass Rewards to receive FordPass Rewards bonus Points. Points are not redeemable for cash or check. See the FordPass Rewards Program terms and conditions at FordPassRewards.com for information regarding expiration, redemption, forfeiture and other limitations on FordPass Rewards Points. Offer valid 2/1/23 to 3/31/23. Submit rebate by 4/30/23 by mail-in rebate form or online at ford.com/service-rebates. ** Cannot be combined with any other tire manufacturer-sponsored rebate/offer. See participating U.S. dealership for vehicle applications and offer details through 3/31/23.

Introducing the Ford Family
Ford Blue Advantage: Confidence at Every Turn
Experience the benefits of Ford Blue Advantage! Each Ford Blue Advantage vehicle features a limited warranty, multi-point inspection, 24/7 roadside assistance, and FordPass™ Rewards Points.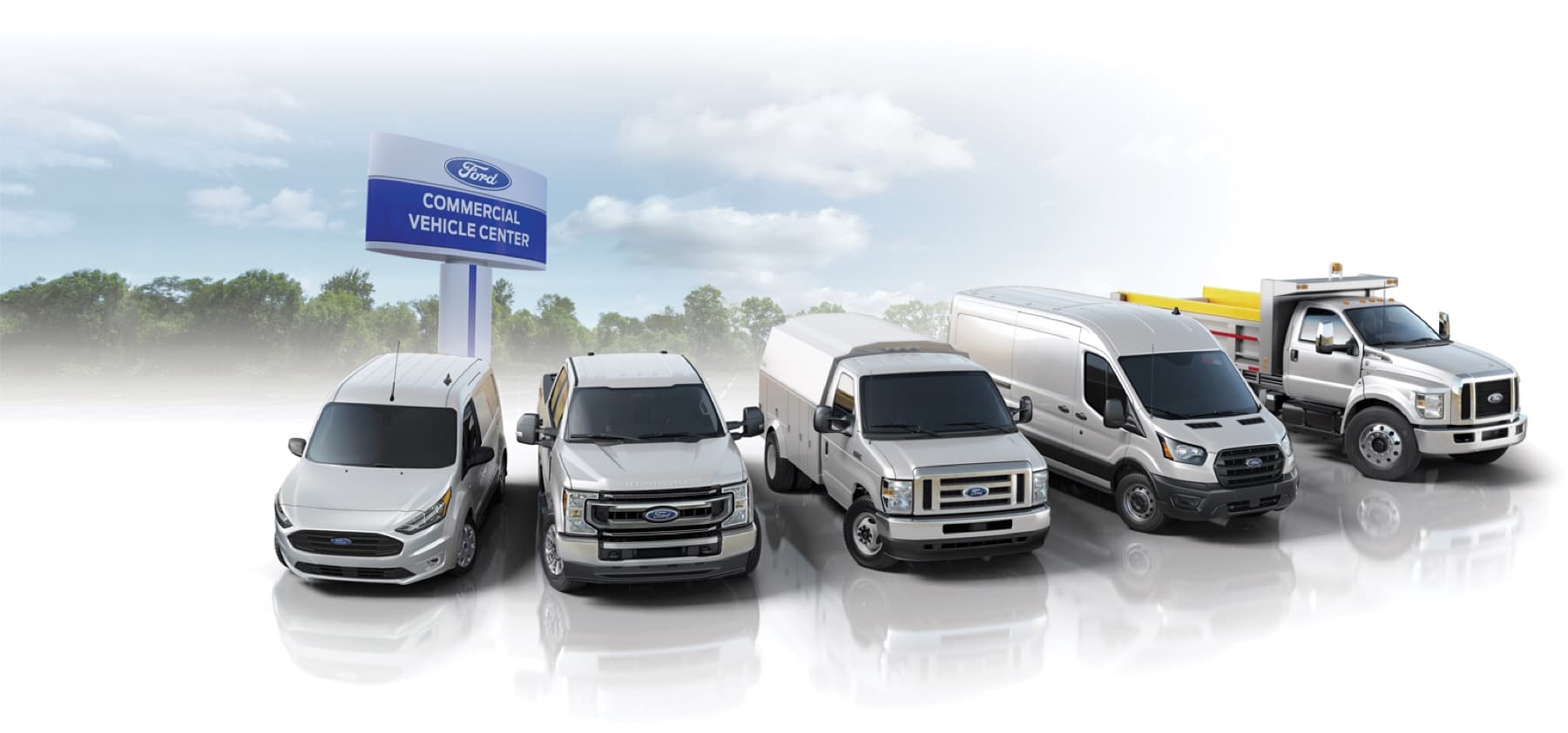 Built for the Road Forward
Your job has never been tougher. And we'll be here to help you keep working. Ford Commercial Vehicles are engineered to withstand the severity of everyday on-the-job duty.
New & Used Cars, Trucks, SUVs in Brewster, NY
Ford Cars, Trucks, & SUVs in Brewster, NY
If you're looking to buy a new Ford or used car, truck, or SUV in the Brewster, NY area, you've come to the right place. Brewster Ford has a wide selection of popular models like the Ford F-150, Ford Explorer, Ford Bronco Sport, and many more new vehicle specials and pre-owned vehicles. Our staff is dedicated to helping our customers find the right vehicle at an affordable price. When you shop at , you can rest easy knowing you're getting a great vehicle from a trusted dealership.
At Brewster Ford in NY, our #1 goal is to make your car buying experience as enjoyable as possible. Buying a car is supposed to be an exciting time, not one you stress about. Some ways we ensure a great car buying experience include our wide selection of vehicles, our professional and friendly staff, and our competitive prices. When you stop by our dealership, you can be sure we'll do everything we can to help you find a car that you love and that fits your needs.
Shop a Wide Selection of Used and New Ford Cars, Trucks, SUVs & More
Whether you're looking for a new or pre-owned vehicle, in NY has you covered. You can see a complete list of our current inventory on our website. Start by checking our new vehicles, where you can find the latest models for all Ford vehicles. In our search results, you can learn all about each car, truck, or SUV, calculate your payments and even begin the process of applying for financing.
If you'd prefer a pre-owned vehicle, we have plenty of those. You'll find all sorts of used vehicles in our search results, from 2020 Subarus to 2011 BMWs and more. With such a wide selection of pre-owned vehicles available, and new additions coming in all the time, you're sure to find something you like. You can also request a Carfax report of any used vehicle so that you can see the vehicle's history for yourself.
Great Deals on Your Next Ford Car, Truck, or SUV
Here at , we make it easy to afford your next vehicle. We do this in a few ways. First, you can easily begin the application process for financing your next vehicle online. This saves you time at the dealership and helps you decide which car is right for you from the comfort of your home.
Next, we constantly offer specials and discounts on some of our new and used vehicles. We offer specials on many of the newest vehicles from Ford, along with used financing deals. You can also find leasing specials if you would prefer to lease your next vehicle. So, before you decide on a vehicle, be sure to check out our list of current specials to see if you can save even more money.
Finally, we make it easy to value your trade-in. You can do so online through our free tool, then factor this into the cost of your next vehicle. If you have a car to trade-in, no matter its condition, this can help you significantly lower the price of your purchase. And, rather than waiting to find out the value of your trade-in at our dealership, you can do so online.
All Around Ford Auto Service in Brewster, NY
Another thing that sets apart is that your experience with us doesn't have to end once you drive off the lot. We also have a full service and parts center, meaning you can bring your vehicle back to us whenever you need repairs or maintenance. Our experienced technicians can perform thorough examinations of your vehicle and determine exactly what the issue may be. We'll then recommend the best course of action, communicating with you throughout the process.
If you need parts for your vehicle, we have many in stock. We can help you find the part you need, and if we don't have it in stock, we'll order it for you and have it here shortly. So, whether you're looking to do the repair yourself or you want our technicians to handle it, our parts department is here to assist you.
Who We Are
is the top destination to buy new and pre-owned vehicles in the Carmel, Poughkeepsie, and Brewster, NY areas. There are a few traits that set us apart from all the other dealerships:
Contact Us
Family Run Ford Dealer
For starters, we are a family-run dealership. Our dealership was founded by William Volz way back in 1972. Today, our dealership is run by Kenn Volz, keeping it in the same family. Because we are a family-run dealership, values of honesty, friendliness, and helpfulness extend throughout everything we do. But being a family-run dealership is about more than just the owners. We consider each of our staff members to be a part of our family, with some of them having worked for us for more than 20 years.
Award-Winning Dealership
Winners of the Edmunds, their Five Star Dealer award, given to less than 100 of the thousands of dealerships around the United States, is just one of the many examples of how we will do what we say every time. Our success all comes back to the great people of Brewster. They have stayed vocal and supportive of us.
Expert Technicians & Sales Staff
You'll have a hard time finding a more knowledgeable staff than the ones working at Brewster Ford. Our sales staff has years of experience and can help answer any questions you may have. As for our technicians, some of them have several decades of experience, making them true masters of the field. If you want to work with the best, come to Brewster Ford.
A Community Pillar
We here at Brewster Ford pride ourselves in our involvement with the community. Over our many years of operations, we have supported numerous organizations in the area, such as the Alliance for Sage Kids to the Out of the Darkness suicide prevention program. Our charitable interests are chiefly focused in our local areas, such as the
Green Chimneys nonprofit
which supports child and environmental concerns in New York. When you shop at Brewster Ford, you can feel comfortable knowing that some of your money is going towards investing in our community.
Gigantic Inventory
Many dealerships can boast extensive inventories of their brand. Some even have a used list of cars that aren't their brand. We have an entire network of dealers in other brands, which means we can provide you with an unparalleled selection. Affiliated with us or directly connected to us is our family of dealerships. When you see the size of our inventory, bear in mind that you will not only be able to view and peruse our large selection of vehicles. But a selection of cars from several other dealers. You will be able to enjoy this convenience all without having to explain what you are looking for to a new sales person or having to deal with an entirely new staff. We take care of our customers. That might be why our customer loyalty is so long-lasting. With how complicated life can be, we try to make it simple, try to make it easy, and try to make it work for your life. We want to be the dealership that you go to when you know you have a good deal, so call us and find out why people choose us for yourself.